This post brought to you by Arcsoft. All opinions are 100% mine.
Bad photos no more! Have you used the Perfect365 app? It's like Instagram for your face – a portrait app that allows anyone to easily select specific makeover styles to get great looks. You can go as far as fine tuning facial details to give you some serious 'after' face. The app is super easy to use as it's fun. You can either get a free Perfect365 Windows 8 app or the Perfect365 iPhone app for just 99¢. I can see how this app would come in handy in situations where you need some good headshots in a hurry.
Playing with makeup is quite fun. Transform your bare face to a full-on makeup look from adding sexy smoky eyes to sultry red lips. The best part is that the Perfect365 app makes photoshopping a total breeze. It smooths out flaws such as under eye bags, wrinkles, large pores, etc. You can even get a fat set of lips like Angelina Jolie using the custom setting which is my favorite feature of the app. The options are quite amazing getting down to details like different styles of the eyelashes and intensity of smiles. Maybe you can use the app before heading out to see what makeup look you want to go with.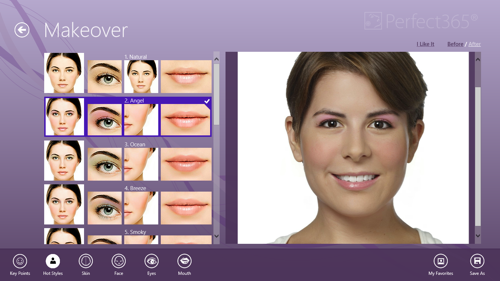 Here is my makeover using the phone app. An enhanced version of my face. I wasn't daring enough to put up a before photo, sorry. Haha! I used the custom setting for more control. Tweaked a few things including a slight contouring of facial features along with improving skin texture and makeup. It literally took me just a couple of minutes. Easy! An inspiration to myself to work on having a slimmer face & better skin complexion. But try not to go overboard as your new date might runaway when he sees you in person… lol!